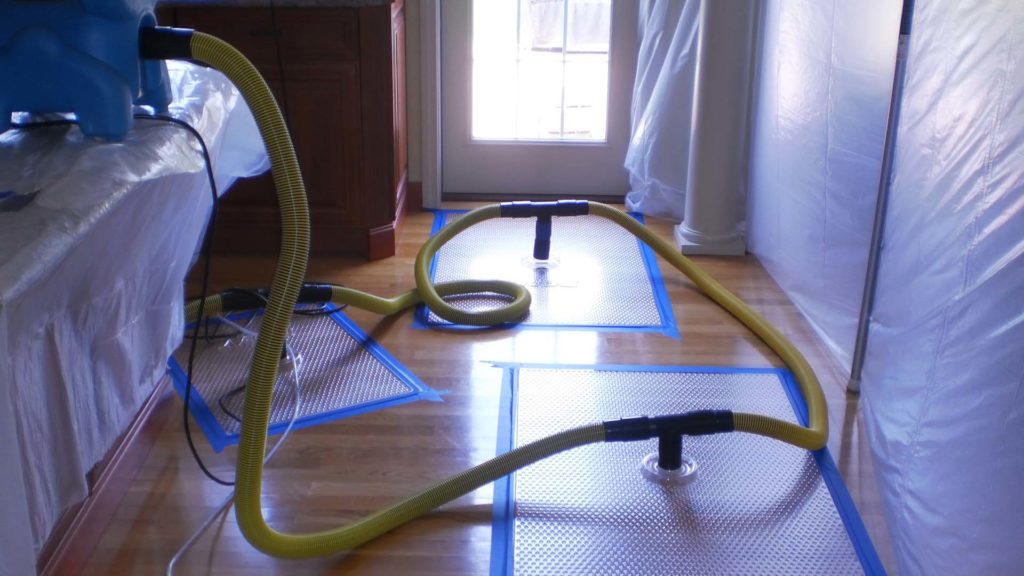 When you are managing water damage, prompt action is essential. TipTop Restoration responds promptly in using cutting-edge equipment along with approaches to eliminate the water swiftly. We thoroughly keep an eye on your property along with visualization of the drying process to confirm your structure is dried out properly. With over twenty years of service in the field, we guarantee satisfaction on all our jobs and offer high quality to the greatest degree on our services. TipTop Restoration works with all insurance companies so you can rest assured that we will function right away with your insurance company so you have one trouble less to worry with. So what are you waiting for? Give us a call at (800) 788-1196 for your cost-free, no-obligation quote.
Please refer to our Water Damage Tips – Until Help Arrives Guide and follow these tips to protect yourself and your property.
The Water Damage Restoration Process
Every water damage situation is a little different, and requires a unique solution, but the general process stays the same. The steps listed below illustrate our process for the "typical" water damage emergency.
 Emergency Contact

  –  The clean-up and restoration begins with a phone call. Our call center is fully staffed 24 hours a day and prepared to dispatch the local TipTop Expert to your house or organization.

Inspection and Damage Assessment

– The restoration process starts with a thorough evaluation of your home, including a damage assessment.

Water Removal/Water Extraction

– The water extraction step eliminates most of the water from your home or residential or commercial property.

Drying and Dehumidification

– After the water elimination step, your flooring as well as walls may look dry at first glance, but they are still damp to the touch. Most structure materials, like drywall and also wood, are permeable as well as will preserve substantial water. We begin the drying out procedure to completely dry your residence.

Cleaning and Sanitizing

– Your property's walls, flooring, and also various other surface areas will likely need special cleansing treatments. Besides cleansing your home's structure, TipTop Restoration will also clean your valuables, like furnishings, upholstery, clothing, as well as other restorable  personal items, damaged by the water.

Restoration

–

Restoration, the final step, is the process of restoring your home or business to its pre-water damage condition.
Water damage can have many sources, from loose appliance hoses to natural disasters. Regardless of the source, TipTop Restoration can handle any size disaster.

Flooding and storm damage

Leaking appliances, water heaters, plumbing, etc.

Overflowing toilets, bathtubs, and sinks

Flooded basements

Tornadoes and thunderstorms

Hurricanes and tropical storms

Sewage backups

Flooding from firefighting efforts
"We work with all insurance agents."
Whenever your home or business is damaged by water, mold, fire, smoke or storms, TipTop Restoration is there when you need us most. Throughout the entire restoration process we'll work directly with your insurance company so you'll have one less thing to worry about. Contact TipTop Restoration today for your free inspection and quote.
Why Choose TipTop Restoration?


We are Faster to Any Size Disaster
TipTop Restoration is dedicated to responding immediately to water emergencies. A fast response lessens the damage, limits further damage, and reduces cost.
We have Highly Trained Water Damage Specialists
TipTop Restoration specializes in water damage remediation, the cornerstone of our business. We have extensive water damage remediation training with an emphasis on monitoring and documenting the drying process until completion.
We Use Advanced Water Restoration Equipment and Techniques
Our advanced equipment helps to detect hidden moisture, extract the standing water quickly, and thoroughly clean and dry your home and belongings. We finish the job with professional deodorization and sanitizing agents for your comfort and safety.
TipTop Restoration Professionals:
Provide

24/7 Emergency Service

Highly Trained Water Restoration Specialists

Faster to Any Size Disaster

A Trusted Leader in the Restoration Industry with over 19 years of experience.
Water damage restoration is a multi-step process that must be handled by a knowledgeable, certified, licensed water restoration professional. TipTop Restoration is available to assist you 24 hours a day, 365 days a year; and while not all items are able to be restored, our service can make a world of difference in helping you reconstruct.
Water and flooding damage disrupts the typical pattern of life as well as can involve a great deal of emotional stress. People frequently feel overwhelmed as well as prone after these kinds of events occur. In these situations, making a great decision when it involves cleanup is very crucial because you will certainly be coping with the outcomes long after the anxiety and also complication have actually passed.
Categories of Water Damage
Category 1 Water Damage
Clean water that does not pose a hazard if consumed by humans is categorized as Category 1 water. This type of water may become progressively contaminated as it mixes with soils on or within floor coverings or building assemblies (walls, decking, sub flooring). Time and temperature, which promote the growth and amplification of microorganisms in water can cause Category 1 water to degrade. Examples: burst water pipes, failed supply lines on appliances, vertically falling rainwater.
Category 2 Water Damage
That which begins with some degree of contamination and could cause sickness or discomfort if consumed by humans is categorized as Category 2 . As with Category 1 water, time and temperature can cause Category 2 water to become progressively more contaminated.
Category 3 Water Damage
Category 3 is water that is highly contaminated and could cause death or serious illness if consumed by humans. Examples: sewage, rising flood water from toilet back floods, or ground surface water flowing horizontally into homes. Anything that can be done to control or minimize these optimum conditions will prolong the time required for microbial growth.
How TipTop Restoration Will Help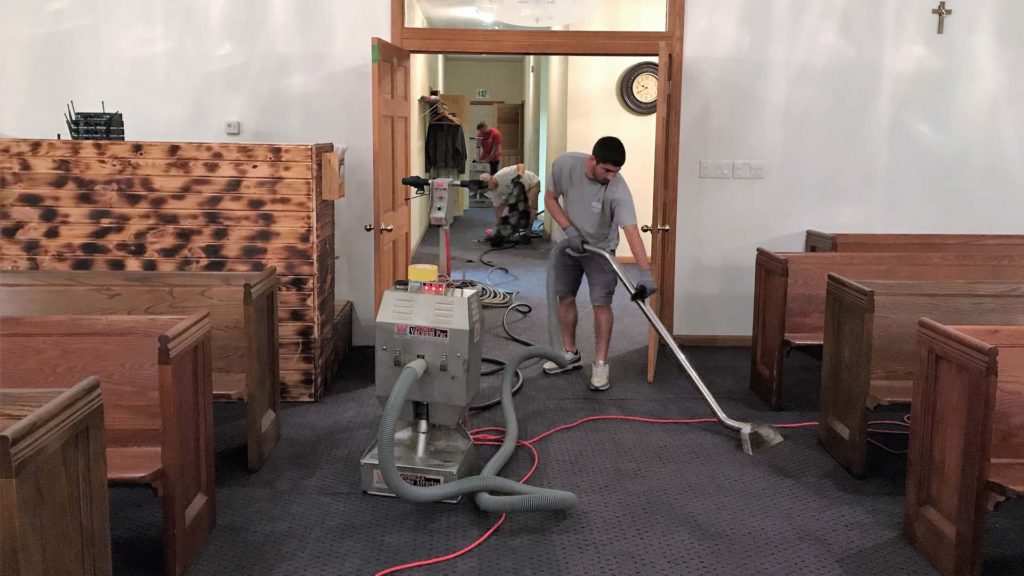 Once our team arrives, we can handle the more difficult water removal tasks. Mitigating water damage requires trained specialists who know how to address all potential consequences and repercussions. Not only does a professional need to know how to fix the damage, but they also need to know where to look. All of our property restoration specialists are thoroughly trained in water removal and damage restoration services. We use large fans, wet vacuums, and pumps to dry all indoor surfaces and carpeting. Pull up all carpeting and padding, but salvage what we can. Attempt to restore all personal belongings (books, art, furniture, etc.). Clean and dehumidify the affected areas to prevent mold growth.
Water Damage Company You Can Trust
Our plumbing experts are well-trained and knowledgeable in the area of damage restoration. Our trained professionals receive the Institute of Inspection, Cleaning and Restoration Certification (IICRC) and perform water restoration services in compliance with standards for professional water damage remediation.
TipTop Restoration's  vehicles are fully equipped with state-of-the art water extraction, drying and moisture testing equipment to handle everything including:
Basement Flood Cleanup

Water removal and extraction

Cleaning and deodorizing

Drying of contents and structure

Water Leak Repair
Restoring Your Home
In some cases, the damage caused by a water intrusion might not be apparent immediately, and may only be characterized by an unpleasant odor.
However, addressing the problem within the first few hours can greatly help reduce the degree of permanent damage, and the consequent increase in restoration costs. If left unattended, even a small leak can cause significant damage to the structure and the contents inside.
By utilizing state-of-the-art equipment and techniques, our team of experts will start by removing any standing water from the affected area. After the water is extracted, we work to dry the area using specialized fans and other methods to control the moisture inside the property. Then, our team members clean and disinfect the building materials and contents from the affected area.
Our team works quickly and efficiently
We have state-of-the-art tools to read moisture levels, assess the water category responsible for the damage, dehumidify, extract the water, and move air throughout your home. Our team works quickly and efficiently to restore what's most important to you. When you call 1-800-788-1196, you can rest assured everything will be done up to code and with accuracy. We have the tools and resources to remove moisture and safeguard your property. Our restoration specialists have the training and tools necessary to get your home or business looking like new again, back to its pre-loss condition.
TipTop Restoration's Mission
In TipTop Restoration Inc. we have more than 19 years of tested experience in water damage restoration, smoke or fire damage focused on emergency situation service.
Our primary goal is to assist folks conserve their houses and companies from the destructive effects that water and fire damages can have on their property; With the very best techniques, tools and expert team in perk of the client, we have the ability to supply the most effective results at the most affordable prices and the fastest time.
Our team is ready to make sure your home is restored and we can recover your piece of mind.